My Neighborhood
When I was born in 1940, we lived at what was then 140 N. Main St. Our house was directly across the street from our dentist Dr. W. T. "Doc" Hughes. I had just enrolled in the first grade in 1946 when my grandmother Harkness died. We moved into her house at what was then 55 Greenville St. after her death. It was across the street from the corner of Greenville and Parker Sts. These are some random shots from my neighborhoods.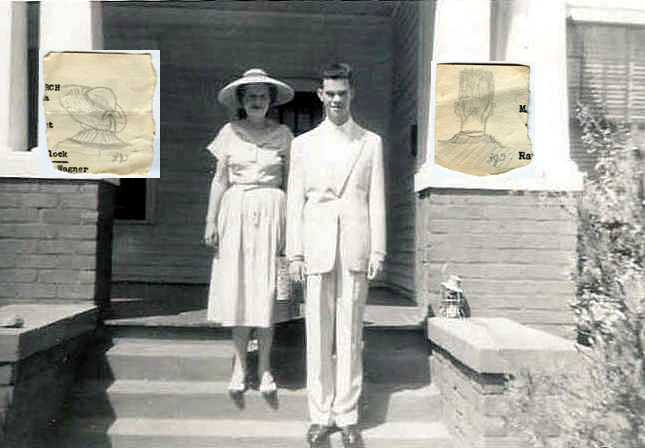 This picture was made of my mother and me on the front steps of our house on Greenville St. one Sunday morning before we left for Main St. Methodist Church. Linda Terrell usually sat behind us in church. One Sunday morning, she sketched my mother and me on the bulletin. She tore the sketches off and gave them to me. They are pasted in on each side of the photo. My mother is wearing the hat in Linda's sketch and I have the crew cut in her sketch of me.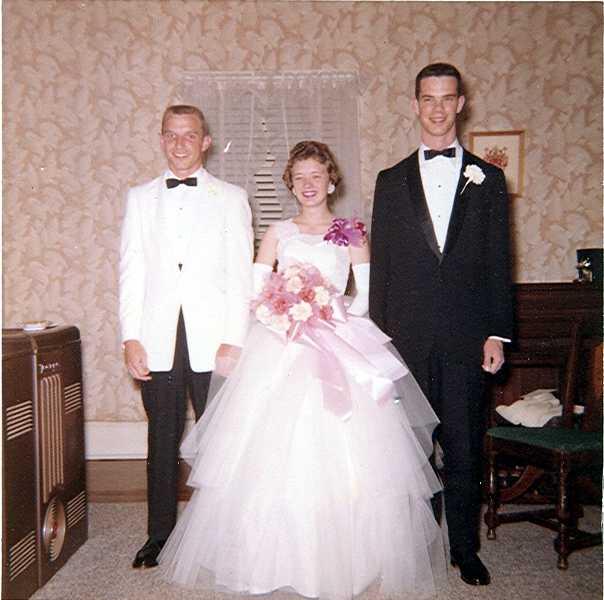 Sarah Linda Schrimpf lived next door to us, directly across the street from Greenville St. School. She was a debutante at the Abbeville Cotillion Club her senior year in high school. I was a freshman at Carolina. Pat Butler and I were asked by Sarah Linda to be her escorts. This is a shot taken in the living room in the Schrimpf's house on the night of the affair. I guess that the picture was made in spring of 1960. Pat is on the left and I am on the right.
Note the Norge fuel oil stove on the left. We had two of those in our house. The desk on the right is a big roll top desk that Mr. Schrimpf bought when I was in early grade school. He had resigned from his job on the railroad and went to work for the Metropolitan Life Insurance Co. I remember late every afternoon Mr. Schrimpf would come home and balance his books at this desk. He used a manual adding machine that generated long ribbons of paper that we liked to play with. I was fascinated watching him use that adding machine. It had a handle on the side that had to be pulled down by an angle of about 90 degrees to perform each addition, making a kerchunk sound each time. We used to sneak and play with it when Mr. Schrimpf was gone. It was not an easy machine to use.
Note that Pat has a crew cut. That was the most popular hair cut for the boys when I was in about the 10th grade on. I was in the 10th grade when I got my first crew cut. I think that Mike McCarthy, Sammy Furman, Bobby Bird, and I all got ours at about the same time. Homer Thompson gave the best crew cuts in Abbeville. He had a barber shop on a side street across from Abbeville Mills. Homer used scissors for his cuts and they were razor flat. Unlike the "uptown" shops, Homer's shop was not air conditioned. When this picture was made, I had started brushing my hair to one side. I think it was called an "Ivy League cut." This picture shows how tall I am. I never remember looking up to anyone when I was growing up.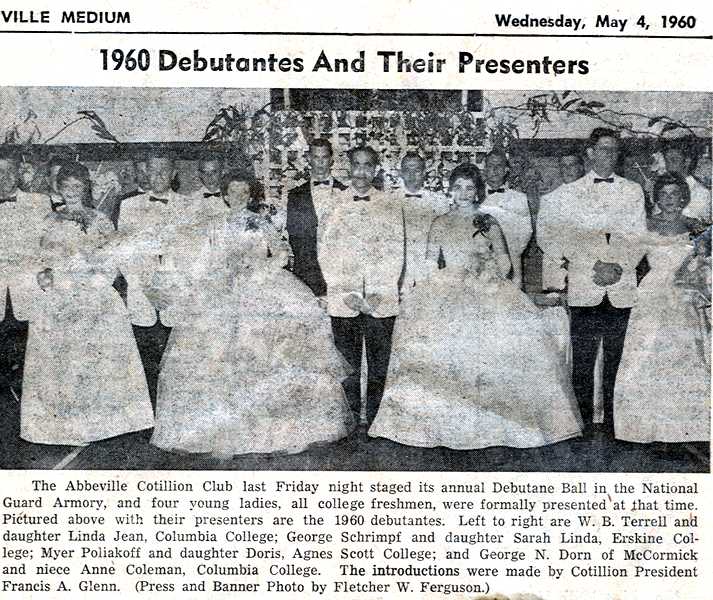 That night at the dance. This picture was made that was published in the Press and Banner. I am the only one wearing a black coat in the picture. The caption reads:
The Abbeville Cotillion Club last Friday night staged its annual Debutante Ball in the National Guard Armory, and four young ladies, all college freshen, were formally presented at that time. Pictured above with their presenters are the 1960 debutantes. Left to right are W. B. Terrell and daughter Linda Jean, Columbia College; George Schrimpf and daughter Sarah Linda, Erskine College; Myer Poliakoff and daughter Doris, Agnes Scott College; and George N. Dorn of McCormick and niece Anne Coleman, Columbia College. The introductions were made by Cotillion President Francis A. Glenn. (Press and Banner Photo by Fletcher W. Ferguson.)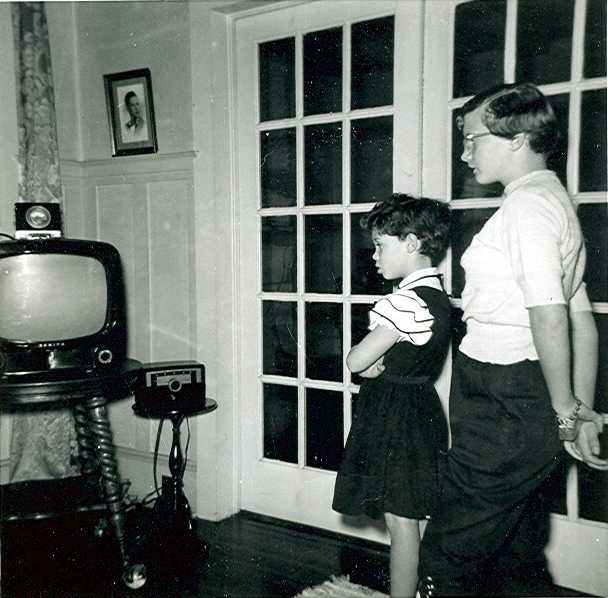 The first time I ever saw a TV was in about 1948 or 1949. It was in the window of an appliance store just north of the square and across from McNeil's Grocery. A western was playing and I thought it was strange for snow to be falling in a western. At that time, WBT-TV channel 3 Charlotte was the only TV station that could be picked up in Abbeville. We got our TV in late September 1953. It was a 17-inch Zenith table model. I had just started 8th grade at the old high school. The TV was delivered on Thursday afternoon. I didn't sleep at all that night. When I came home from school the next day, Mr. Green of Green's TV and Repair was at the house installing the antenna. One of his helpers was Eddie LaBoon. That night, we had TV. I watched a Bowery Boys movie and a Boston Blackie crime mystery. That was the first Friday night that I had missed a football game across the street at Greenville St. school in a long time.
The picture shows Sarah Linda and Teresa (Tess) Schrimpf looking at the Zenith. On its top is the control unit for the Cornell-Dubilier rotor that turned the antenna. On the table to the right is the Regency UHF converter. My picture is on the wall. I had a fascination with UHF at that time and I tried my best to pick up WGVL-TV channel 23 in Greenville and WAIM-TV channel 40 in Anderson. WGVL-TV was issued a construction permit in January 1953 and was on the air by the time we got our Zenith that September. After going to my 3rd antenna on the roof, I was able to get a good picture on channel 40, but the picture on channel 23 was never that good. Channel 23 went dark sometime in the late 1950s and channel 40 has changed hands and call leters several times since it went on the air. It was originally run by the Anderson Independent and Daily Mail newspapers (AIM), all of which were owned by Wilton E. Hall.
From what I have been able to determine, the first three television stations in South Carolina to go on the air were (in order) WNOK-TV channel 67 in Columbia, WGVL-TV channel 23 in Greenville, and WAIM-TV channel 40 in Anderson. WGVL-TV went on the air on August 15, 1953 with the networks ABC, NBC, and Dumont. The studios were located in Calhoun Towers in Greenville. On December 23, 1953, WFBC-TV channel 4 went on the air and became the NBC affiliate in Greenville. The station was owned by the Peace family who also owned The Greenville News newspaper. The loss of NBC by WGVL was their downfall. The station lost its ABC affiliation to WLOS-TV channel 13 in Ashville, NC which went on the air on September 18, 1954. The Dumont network went under in 1956. I remember WGVL simulcasting some programs with WBTV channel 3 in Charlotte during its last days. I believe it went off the air on April 29, 1956. If anyone knows more history of WGVL, I would love to know it.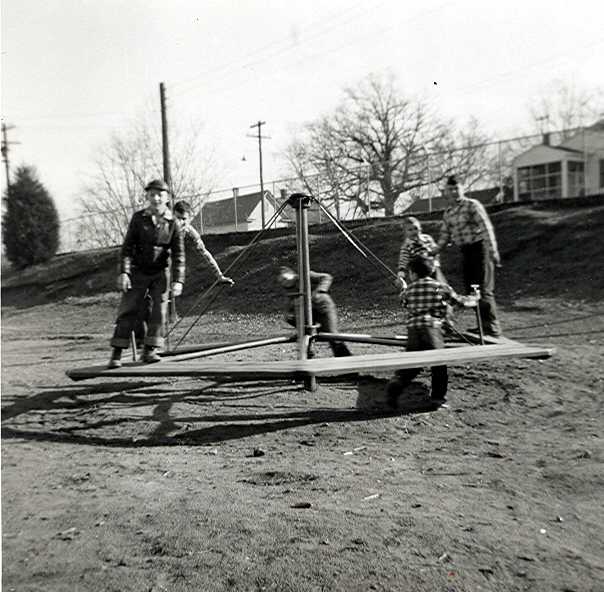 This picture was made in the Greenville St. School yard sometime in the early-mid '50s. It shows the "merry go round" on the back side of the school. This thing looks to be kid friendly, but it was very heavy. When it was rotating, it was impossible to stop in an emergency. I am surprised that none of us was knocked down and trapped under it. We used to get it to spin up pretty fast, fast enough to throw one off if he wasn't holding on tight. The picture shows Pony Buford, Jesse Hall, Jimmy Hall (pushing the merry go round in the center), Freddy Link, and Mason Speer. There is one boy pushing the merry go round at the back that I can't identify. Maybe it was Lewis Anderson, for he is in the next picture. Up the hill is Parker St. The house to the right is the Hall's house. The Halls bought it from Dr. Canfield when he left Abbeville sometime around 1950. The house had not been built that long when he left. To the left is the Buford's house. Mr. Buford was the Pepsi distributor in Abbeville. He delivered them in an old uncovered truck with wooden slat sides. Mrs. Buford used to sell us Pepsis and Nehi orange and grape sodas for 5 cents from stacks of crates in her basement. We would punch a hole in the cap with an ice pick and drink them through the cap. The drinks were not chilled, so they were pretty hot on a summer afternoon. We would shake them and let them spew into our mouths. We really thought we were getting a bargain because Cokes cost 6 cents then, and they were only 6 ounces. The Pepsi products were 12 ounces.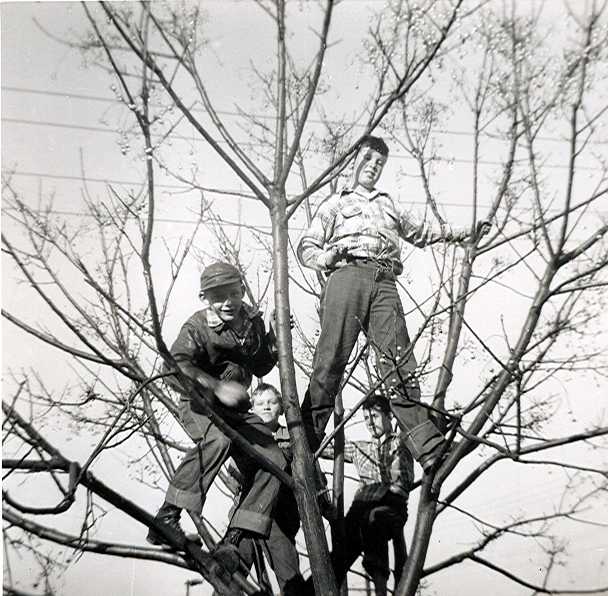 This picture was made of the boys in a tree that was near the merry go round in the school yard. Pictured are Mason Speer at the top, Pony Beuford (I think) at the left, Lewis Anderson to the lower left of the tree, and Jesse Hall beneath Mason's legs.
I am guessing that the two pictures in the school yard were made in late '53 or early '54. I can't see the very large TV antenna on the Hall's house that was there after they got their 21" GE console TV several months after we got our 17" Zenith tabletop TV in September '53. If they had the TV when the picture was made, we would surely have been watching Howdy Doody instead of playing in the school yard. Almost every afternoon during cold weather, we went to Jesse's house to watch Howdy Doody. Yes, it was corny, but there was nothing else for kids to watch.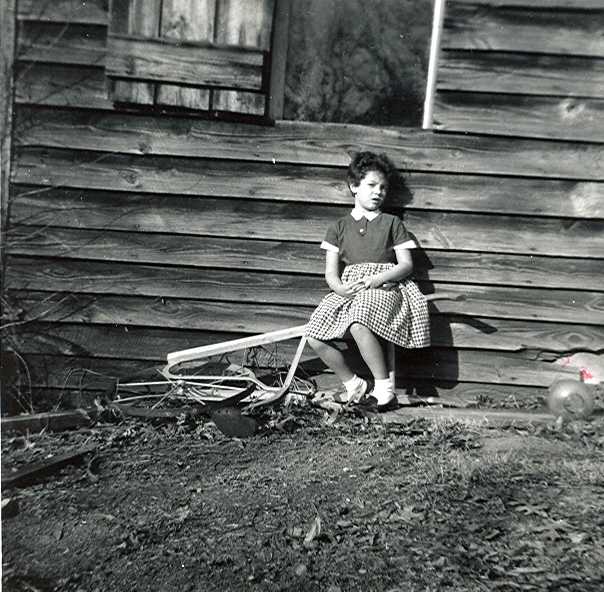 This is a picture of Tess Schrimpf that was made behind our house in '53. She was 6 or 7 years old at the time, and I thought of her as my "little sister." I made this picture not long after seeing the '53 movie "House of Wax" starring Vincent Price. It was a 3D movie and my father took me to Greenwood to see it. I brought the Polaroid glasses home after the movie and decided that I wanted to make a 3D photograph. Tess was my subject. I took two pictures of her. One was shot through the left Polaroid lens and the other was shot through the right lens. I moved the camera laterally a distance equal to the distance between the two lenses before making the second picture. I thought that if I viewed the two pictures through my Polaroid glasses, I would see Tess in 3D. It didn't work.
Tess is sitting on a hand plow that my father used to till his garden. The structure behind her is my father's tool house and work shop. My grandmother used this shed for storage before she died in '46. When we moved into her house, I remember that the shed was a treasure trove of stuff for us kids to rummage through. The side the picture is taken on was my father's work shop. It had an old wooden-back couch in it and us kids considered the room to be our club house.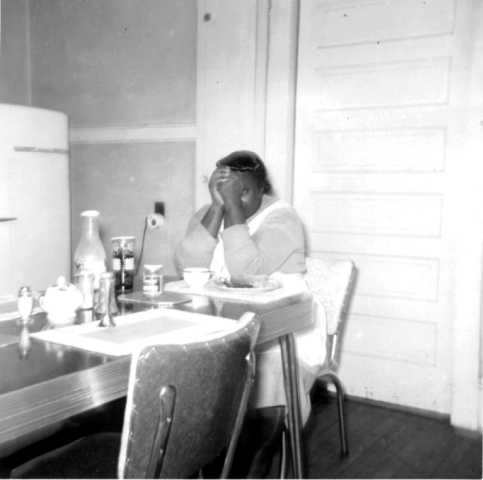 Alma Marshall, who raised me because both of my parents worked, in our kitchen in the mid '50s. Alma worked for us from the time I was born to the time I went off to college, and she was my second mother. When I was a kid, I often wanted to stay inside with Alma rather than go out to play with the neighborhood kids. When I made this picture, I could not get Alma to show her face. Having known her is one of my most treasured memories of Abbeville.
To the left of Alma, you can see a timer connected to the power cord of our late '40s Hotpoint refrigerator, which we bought from Speed and Savitz. I ordered the timer from some company that had an ad in Popular Science magazine. The timer would shut off the refrigerator power for a specified time interval during the night to melt the accumulated ice on the walls of the little freezer compartment in the upper right hand corner of the refrigerator. Of course, the water that collected in the tray below had to be emptied each morning, but that little timer converted our Hotpoint into a frostless refrigerator, a feature that is standard on refrigerators today. The water in the frostless refrigerators of today is piped into a pan beneath the refrigerator. There it is evaporated by the air flow from the compressor fan. I wonder if anyone who reads this remembers the awful chore of "defrosting" a non-frostless refrigerator.
Our kitchen table and chairs were also of the late '40s. Today they would certainly be called "retro chic." On the table, I can see a quart of milk that was delivered to our front door by McNeil's Dairy, a "jelly glass," and a small dinner bell, among other things. The coffee cup in front of Alma was part of a china set my mother bought from Belk-Simpson department store where she worked. I remember the price of the set was much lower than its quality. I think that Belk-Simpson could not sell such products because they were primarily a clothing store. Thus they sold the remaining stock at a greatly reduced price.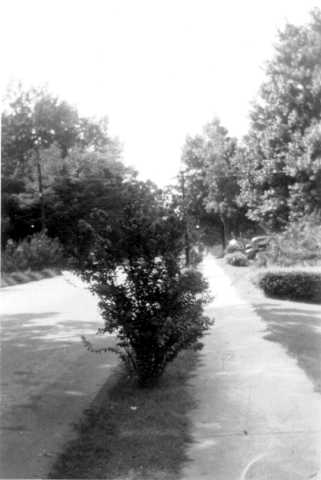 Looking north on North Main Street in front of the house we lived in until I was in the first grade. It was directly across the street from Mary Winton Hughes' house. This picture was probably taken in the late '30 or early '40s. A black car is visible in the Vandiver's driveway two houses up the street. It looks like a '30s model.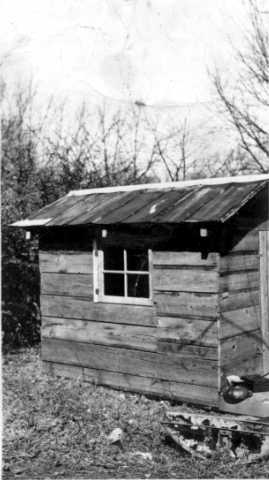 My "playhouse" built by my father in the early '40s. I am inside peering through a crack. I refused to look out the window for the picture.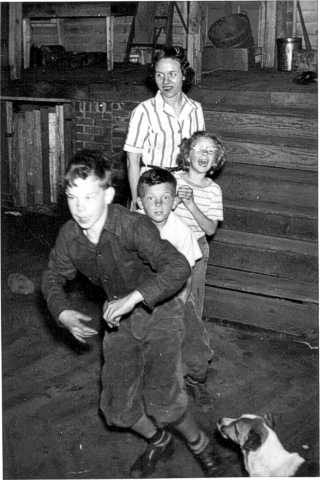 When I was in the first grade, we moved to my grandmother's house on Greenville street. This picture taken in the latter '40s in the back yard of the Schrimpf's house, which was next door to our house. Me, my dog Terry, Frederic, Sarah Linda, and Mrs. Schrimpf. Although Frederic looks younger than I do, he was two years older.

Back to my Abbeville Nostalgia page.
---
This page is not a publication of the Georgia Institute of Technology and the Georgia Institute of Technology has not edited or examined the content. The author of this page is solely responsible for the content. Copyright 2004. All rights reserved.