Some Pictures from Abbeville, S.C.
The above photograph of the Abbeville square was made in the early 1900s. It was made from the south end looking north. The Confederate Monument can be seen to the right of center. Many of the stores had awnings over the fronts, no doubt to shield the summer heat, for there was no air conditioning back then. These had disappeared by the 1950s. It looks like the square was more of a pedestrian mall than a main thoroughfare through town. By the 1940s, it had been paved with bricks. By the 1950s, patches of alphalt had been put down and covered some of the bricks. Due to the efforts of people like George Settles, the asphalt was removed and damaged bricks were replaced by the 1980s. There are several pictures in the Around the Town section that show the before and after.
I never intended for this page to be for public view, but it just happened. Originally, I created it for purposes of sharing pictures with a childhood friend. Links to the page began to show up on internet search engines, and I started receiving email from people I knew in Abbeville. This motivated me to post more of my pictures and memories of growing up in in the '40s and '50s. If what I have posted here seems disorganized, I apologize. I never intended for it to be a coherent web page for public view. It is just a random collection of pictures and memories of growing up. I am grateful to those who have seen it and have shared pictures and memories for me to post here. If anyone would like to share a picture or make comments, I can be contacted at

Click on pictures to enlarge them.
Live Web Cam and Video Cam Views of the Abbeville Square
Click here to see a live web cam picture of the Abbeville Square. The picture will refresh every 60 seconds. At night, the glare from the street lights masks some of the image and makes it look a little "grainy."
My School Teachers and One of My Report Cards
A list of my teachers and a scan of one of my report cards.
The Abbeville Grasshopper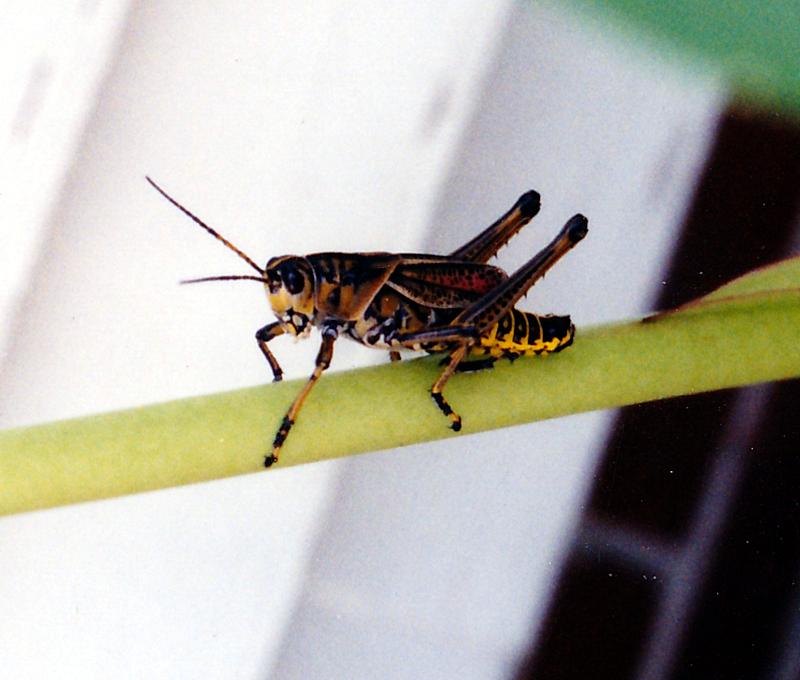 Abbeville had a colony of grasshoppers that I have never seen anywhere else I have lived. Pictured at the left is one of the creatures which is not yet fully grown. Fully grown, they measured maybe 3 to 4 inches long. When confronted, they would kick back their spiked legs, fluff out their red wings, and spit "tobacco." We used to catch them to chase the girls. I had a large magnifying glass that I used to burn them to a crisp by focusing sunlight on them. My father worked for the S. C. Health Department and he inoculated dogs for rabies. He kept some large syringes and needles in our tool house. I used to fill a syringe with water and inject it into grasshoppers until they expanded to over twice their length and water squirted from their joints. This was before anyone in our neighborhood had a TV set, and there was little else for a kid to do. I have recently learned that the grasshoppers are properly called "lubbers." The picture was made in the Fort Pickens area of Abbeville in the summer of 1994.
The AHS Panther Beenie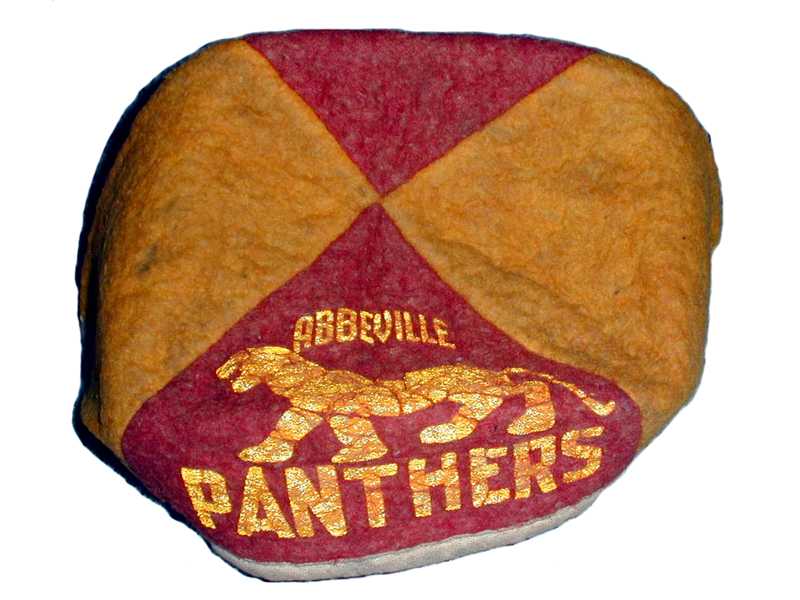 A photo of a Panther Beenie from around 1950.
Chamber of Commerce Postcard Pictures
These are from postcards sold by the Abbeville Chamber of Commerce.
AHS Annuals
I have scanned some of my AHS Shadows annuals. They are in PDF format with a file size about the same as two 128 kbs mp3 song files. Here are the links.
1954 AHS Shadows. I was a sub-freshman in the 8th grade.
AHS Old School
Pictures from the AHS Old School bulletin board.
Around the Town
Old and new pictures from around Abbeville.
My Neighborhoods
I lived on both N. Main St. and Greenville St. in Abbeville. You can see some shots from my neighborhoods here.
Group Pictures
Here are some of the group pictures from my collection. Included are pictures of early birthday parties and some of the class pictures made in grammar school.
AHS Class of 1958
I was a member of the Abbeville High School Class of 1958. Here are some pictures including some that I made while we were in school.
Pictures From Marian Hagen
My classmate Marian Hagen has sent me several pictures. She presently lives in Texas. You can see her pictures here.
The Literary Lantern Book Club
When I was young, my mother belonged to the Literary Lantern Book Club. Each year, each member of the club bought a book that was circulated among the membership. The members of the club would receive a new book each month. The scan is a cropped image of the inside of the book "The Days Grow Cold" by Sarah Tunnell Anderson. This was one of the books my mother purchased for the club. It was copyrighted 1941, the year that I was one year old. The scan shows the distribution list for the book. It also shows the holes that I punched with a paper punch. I can remember punching lots of holes with that little punch. In order, the ladies on the list are Sara Leach, Ruth Hughes, Spec Mann, ? Smith, ? Weldon, Nell Nickles, ? Wilson, Edna Sherer, ? Johnson, ? Bell, Lillian Nickles, Margaret Bowie, Willie Mars, Liz Cox, Myrtle Leach, Billie Darracott, Liz Knell, Lib Furman, Rosa Poliakoff, and Phyllis Greene.
The AHS Band
This is a picture of the AHS band that was probably made in the early 1950s. Some of the people in it are not in my 1954 Shadows annual, so the latest they could have graduated was in spring of 1953. I finished the 8th grade the spring of 1954. Thus I calculate that the latest that this picture could have been made was 1949. I tried to play the clarinet in the band, but I hated it and dropped out before the picture was made. The people in this picture who I can name are Tally Hays, Flynn Bowie, Mixon Darracott, Chris Kapetanakos, Flynn Bowie, Jimmy Lomax, Richard Dyar, Anne Coleman, and John Anderson. Mr. Varney was the band director. The picture was made at Tinsley Field which was behind Greenville Street Elementary School across the street from where I lived. The bleachers in the background were for fans of the opposing team. I can remember watching clouds of cigarette smoke float from those bleachers during the nightime football games. I was sitting on the Abbeville side of the field and I am sure there was more smoke floating up from our bleachers. How we ever survived the cigarette smoke is a mystery to me.
The Abbeville Swim Club and Swim Team
The Abbeville Swim Club was a big part of our lives from the mid '50s until we graduated from high school.
The AHS Dramatics Club
When Neil Bonds came to Abbeville to teach in the fall of 1955, he formed and sponsored the Dramatics Club. Before he left at the end of fall 1957, we had two plays and a Declaration Contest. It was all great fun.
Our Trip to Myrtle Beach and The Little Rock Golf Course
In the summer of 1956, two groups of us went to Myrtle Beach for a week. The group I was in stayed in three apartments in Thomas Manor Apartments No. 3, one for the chaperones, one for the girls, and one for the boys. Our chaperones were Mary Winton Hughes' mother Ruth Hughes and Sammy Furman's mother Lib Furman. The group consisted of Anne Nickles, Mary Winton Hughes, Jane Hulsey, Sammy Furman, Mike McCarthy, Billy Mann, and Marshall Leach. I think that Samuella Speer and John Anderson were in our group, but I don't have any pictures of them for some strange reason. I guess it is because they were dating and were doing their own thing. The only thing I remember about them on this trip was the night we went to a drive-in theater to see the movie "Picnic." Samuella went to sleep during the movie. She woke up when we ordered some refreshments and ordered a tuna salad sandwich. When John asked her why she ordered that, she said that it was the only non-carbonated thing she could think of. It might sound a bit corny, but we teased her a lot for her response. This page has the pictures I made at the beach and some made that summer after we returned.
May Day 1952
Front cover of the 1952 May Day Program at Greenville St. Elementary School. Our class was in the sixth grade at this time. It appears that the front covers were individually hand colored.
Inside of the May Day Program.
AFROTC Summer Camp in 1961
In the summer of '61, I took the bus from Abbeville to Waco, Texas to attend Air Force ROTC Summer Camp at James Connally Air Force Base. It was the most miserable month I have ever spent. I remember Charlie Darracott charging me about $35 for the ticket. I don't know if it was one way or round trip. I went to Waco on Trailway busses. They were awful. They were not air conditioned, there were no rest rooms, they stopped at every side road along the highway, and they rattled so loud that I couldn't sleep. I came back to Abbeville on Grayhound busses. They were air conditioned and had rest rooms. The only proof that I was at summer camp that summer is the linked picture. The plane was just a prop. We cadets lined up and the photographer snapped our pictures. I remember him asking me to say a four letter word which caused me to laugh. Otherwise, I don't know if I would have been in the mood to even smile.
The Original Bank of Abbeville
When I was growing up, Abbeville had only one bank, the Bank of Abbeville. A picture of the building is here. It looks like the picture was made after the bank vacated the building, which was after 1987 because I visited the bank that year. The scan of a blank check from around 1950 is here. Until it merged with State Bank and Trust in Greenwood in the early 1960s, the bank had only one location which was on the downtown square. Mr. T. A. Sherard, who lived two blocks up Greenville Street from us, was in charge. Mr. Sherard was the financial advisor to many people in Abbeville, including my grandmother and my mother. I remember seeing my mother crying on the front porch of our house when T. A. died. There were very impressive hand painted murals of times gone by on the walls inside the bank. Behind the tellers' cages, I watched ladies use mechanical check sorting machines which looked very complicated to me. As a kid, I was fascinated by mechanical things, and I loved going to the bank so that I could see the machines in operation. After many mergers, the Bank of Abbeville became part of The Bank of America and the downtown location of the bank was closed.
On the back of the check, I found a recipe written by my mother. It was for a Ritz Cracker Apple Pie that uses Ritz crackers in place of apples. In the '70s, I laughed at a friend who made an apple pie with Ritz crackers. At that time, I assumed that it was something that someone in Georgia had devised. I was surprised to find that the recipe was circulating in Abbeville over 25 years earlier.
Gypsy - A Traditional Abbeville Holiday Desert
There was a popular holiday dessert served in Abbeville that was called Gypsy. I have never seen it served outside of Abbeville. Here is the recipe that my aunt Myrtle Leach used:
Boiled Custard: Beat 4 eggs with 4 to 5 tablespoons of sugar. Add 4 cups of milk. Cook over low heat until it coats a spoon (never let it boil). If it lumps, strain it. If it is too stiff, whip it. Put a layer of plastic wrap over its surface when cooling to prevent a skim from forming. Add one teaspoon of vanilla after it cools.
Whip 1/2 pint of whipping cream. Fold in 1 to 2 tablespoons of sugar after whipping.
Two to three packages of lady fingers that have been split into halves.
Put a layer of lady fingers in a large bowl. Sprinkle them with sherry wine. Add a layer of boiled custard. Add a layer of whipped cream. Sprinkle with chopped pecans (one cup total). Repeat until all ingredients are used. The top layer should be whipped cream sprinkled with nuts.
I must admit that Ruth Hughes, the mother of my friend Mary Winton Hughes, made the best gypsy I have ever tasted. I do not know her reicpe, but hers had more whipped cream and less lady fingers than my aunt's. She used slivered almonds instead of pecans and she added an extra kick by adding a generous amount of rum with the sherry. Ruth also made the best egg nog I have ever tasted, bar none.
Adelaide DuPre's Gypsy
The DuPres lived up the street from us on Greenville Street in this house. Adelaide Dupre's recipe for Gypsy is said to be very good. Her recipe is below.
Sponge Cake
Prepare this recipe first.
Ingredients
4 eggs
1 cup sugar
2 tbsp cold water
1 cup sifted flour
1 1/2 tsp baking powder
1/4 tsp salt

Separate egg whites & egg yolks. Beat egg whites until stiff & set aside. Beat egg yolks until color of lemons. Add sugar, cold water, and flour sifted with baking powder and salt. Mix well. Fold in stiffly beaten egg whites. Pour cake mixture into an ungreased steeple cake pan. Bake at 300 degrees for 1 hour. Turn out of cake pan and completely cool. No grease is used in the pan. You may have to run a knife around the sides of the cake pan to remove the cake.
Boiled Custard
Prepare after the sponge cake has cooled.
Ingredients
4 cups WHOLE MILK
4 eggs
4 tbsp (heaping) sugar
Beat eggs and sugar together and set aside. Heat 4 cups of whole milk on low heat in a double boiler until warm. Pour warm milk into the beaten eggs and sugar. Stir, then pour the mixture back into the double boiler and cook over low heat, slowly stirring frequently to prevent sticking. Cook over low heat until thick. If the milk mixture does not thicken, mix 1 tsp corn starch in 1 tbsp whole milk. Stir and dissolve the corn starch and add to custard mixture in double boiler. When thickened remove from heat & cool. Then add 1 cup of DRY Sherry to custard. Adelaide advises to purchase DRY Sherry from a liquor store, not a grocery store. Do not use cooking sherry.
The Finish
Tear sponge cake into bite size pieces and line bowl with sponge cake, then slivered almonds, then custard. Alternate layers and top with whipping cream. If desired, add Sherry to whipping cream. The custard should soak into the cake, check by pressing back of spoon onto the first layer.
Number Of Servings:6-8
The Old Abbeville Hospital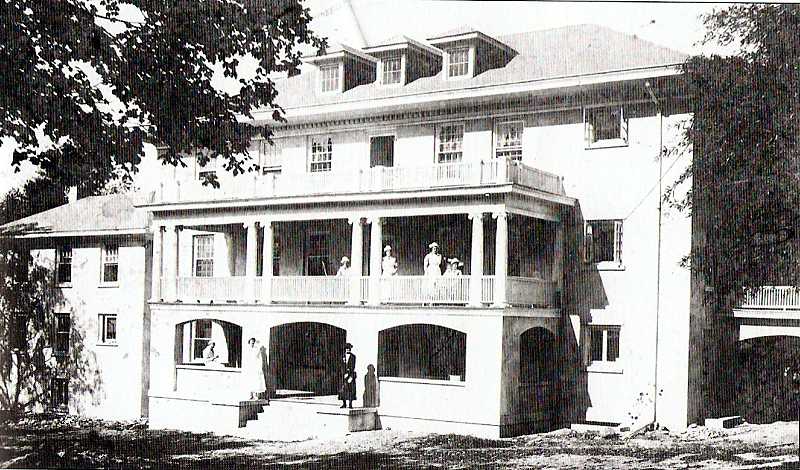 The old Abbeville hospital, on the corner of Ellis Ave. and Cherokee St., opened in 1916. I was born there and both of my parents died there. I was surprised to find out that before it was a hospital the 3 story structure was formerly the Ferguson Williams College for black students. Since a new hospital was built in 1966, the old hospital was converted into the Ferguson Williams Apartments. The picture appears to be a very early one.
The Coca Cola Bottling Plant
I received email from someone who asked me if Abbeville really once had a Coca Cola bottling plant. She said that her friends told her that she didn't know what she was talking about when she said that she once worked there as a teenager. Many folks today never knew that that it ever existed. We used to say that it was where they planted Coca Colas. The facility was located just off Chestnut St. on Lane St. Here is a photo of the bottom of a 6 ounce Coke bottle> from Abbeville. While in grammar school, our class took an interesting tour of the plant. We watched the automated machines wash the old 6 ounce bottles, fill them with Coke, and cap them. The last step was a visual inspection of the contents of each bottle to be sure that they had been fully cleaned. Ladies grabbed 4 bottles at at time from the conveyor belt and placed them on a light table device that shined light through them. The bottles were then put into wooden crates for delivery. Across the street from the Coke plant was the old ice plant. During the summers, we would go there after church to get a block of ice so that we could make homemade peach ice cream in a hand-turned churn. This picture is of Buddy Harrison, AHS class of 1957, who was Sales Manager for the Coca Cola Plant until 1976. The picture was sent to me by his daughter Hope Harrision. Her mother is Bitsy Erwin Harrison, AHS class of 1957. The picture was made in the early '60s.
Pictures of the Fire Department and Police Department
My father was a volunteer fire fighter before I was born. You can see some of the pictures he had that were made in the '30s or maybe the early '40s on this page. There is also one picture of the Abbeville mayor and police officers from about 1940.
Abbeville Historic District
The National Register includes many of the older houses and buildings in the Abbeville Historic District. A link to pictures of them is here.
Nice Pictures of Abbeville
A lady in upstate South Carolina has a blog where she posted some nice pictures she made on a trip to Abbeville. Click here to go to her blog.
Videos About Abbeville
As a kid, I spent countless hours watching movies at the Opera House.
Does Abbeville have ghosts?
The Belmont Inn. The picture is of George Settles who owned WABV radio for a while and became the first head of the Abbeville development office.
Some drives through downtown Abbeville.
A video about Abbeville County.
---
This page is not a publication of the Georgia Institute of Technology and the Georgia Institute of Technology has not edited or examined the content. The author of this page is solely responsible for the content. Copyright 2004. All rights reserved.